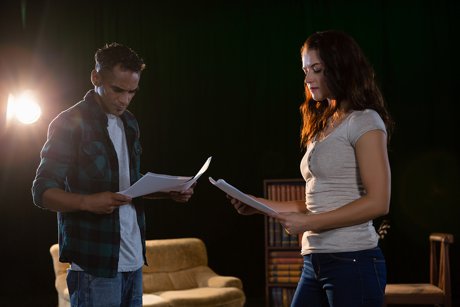 Delve into the magic of storytelling with the Lamb's Players Theatre found on Coronado property. For almost fifty years this non-profit performing arts venue has brought stories to life on the stage. Audiences have been thrilled time and time again, experiencing joy, laughter, sadness and contentment from the rise of the curtain to the final scene.
The Lamb's Players calendar includes a diverse mix or plays, musicals and comedies to choose from. Diversity is a key component of planning and everyone will find something to suit their tastes during the season. Past productions include The Miracle Worker, Smoke on the Mountain, Shadowlands and Wine, Women & Song. Holiday shows light up the house. Annual favorites such as the Festival of Christmas become family traditions.
Youth Living in Coronado Take to the Stage
Giving back is second nature to those working in performing arts. The group of engaging performers help in a variety of ways. Children living in Coronado get the opportunity to express themselves. Summer drama camps helps children learn how to embrace their creativeness and encourage a love for arts and entertainment. Participants from ages 8 to 14 learn all about the theater from the ground up. Camps are divided by age and introductory to intermediate levels.
With positive messages in hand, the Lamb's Players traveling troupe gets out into the community. Interactive and energetic workshops are specifically designed to confront today's top issues facing youth in America including bullying, peer pressure and more. Educational institutes utilize this worthwhile program with many San Diego County schools being eligible for complimentary performances.
The Lamb's Players theater is charming and rich with history. An elegant building with roots dating back to 1917, the Coronado property underwent renovations in 1993. With its current design views are perfect from any seat in the house. Making it easy, there are three convenient ways to buy tickets. The Box office is open 12 to 5 pm on regular days, and from 12 pm to showtime on dates when performances are scheduled. Tickets can also be purchased online or by calling 619.437.6000.