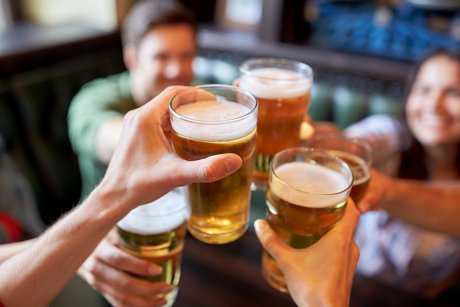 Friends toast to good times on Coronado real estate. At the Coronado Brewing Company's own Coronado Brewpub the celebration is non-stop. Opened by the Chapman brothers way back in 1996, this family owned brewery maintains the perfect combination of a relaxed and lively vibe. With a dedication to perfecting their craft, flavors are bold with beers brewed with only the finest of ingredients.
The Coronado Brewpub is conveniently located at 170 Orange Ave. Great for meetups, a friendly ambiance brings folks in. An amazing tap list combines IPAs, ales and stouts. Regulars to the Coronado property rave about the Coronado Belly Flop, a blond ale that more than satisfies thirsts. Others prefer to savor a Coronado Islander IPA or Coronado Early Bird Cold-Brew Milk Stout.
Toasts Ring Out on Coronado Property
Appetizers pair nicely with whatever beverage is selected. The starters menu boasts delightful tidbits such as street tacos, calamari strips and lobster bisque. Hartier food in the house features sandwiches, burgers, pasta, and choice entrees. Dessert draws smiles as baked apple crisps, turtle caramel pie and brownie al a mode are placed about the table. Happy Hour can draw a crowd and is held Tuesday through Friday from 2 to 6 p.m. Highlights of the happy hour menu include artichoke dip, the brewhouse pretzel, fried calamari tacos and barbeque chicken flatbread.
With two decades of being the life of the party on Coronado real estate under their belt, this little brewery is going strong. Select beers can now be found coast to coast. Two other locations are ready to serve folks in the area as well. Found at 875 Seacoast Drive, an Imperial Beach location is a full service restaurant and is open for breakfast, lunch and dinner. Stop in for Happy Hour Tuesdays through Fridays from 2 to 6 p.m. Nearby, the gang at the San Diego Tap Room is in high spirits. See what's on tap at 1205 Knoxville Street.